Frankston Reformed Presbyterian Church

These doors don't look like much. But twice each week, at 11am and 5:30pm each Lord's Day (Sunday), they open into a Holy Place. The place where the Eternal God meets with His assembled saints in the Reformed Presbyterian Church of Frankston.
God meeting with us is not unique. He meets with all His assembled saints in every true church all over the world. But this is Our Holy Place – where God meets with us as we assemble each week.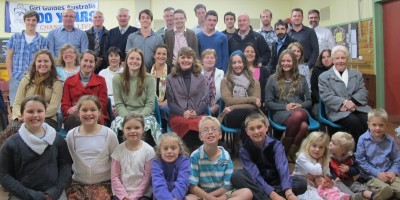 We saints don't look like much either, but we are those who have been saved by grace through faith in Jesus and have entered into covenant together to support and encourage each other in our service to the Lord.
We invite you to join us in this holy place each week. Our meeting location is the Frankston Girl Guides' Hall, 29a Overport Road, Frankston South, VIC 3199 (Melways reference 102:D7).