Welcome to Frankston Reformed Presbyterian Church!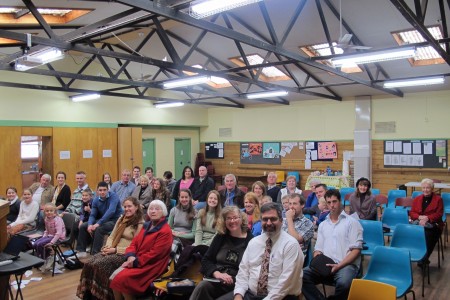 We are small representation of God's church. When we talk about church we don't mean a building (in fact, we don't even have a building but meet at the Girl Guides' Hall in Frankston South). Church is far greater than bricks and mortar. When we mention church we are speaking of the millions of people who worship Christ as King and who worship in gathered assemblies in their varied locations all over the world. The Bible calls that whole thing, and the individual assemblies, the Church.
So, welcome to a small portion of the Church, that is at the same time, The Church, specifically located in Frankston, Victoria, Australia. Our group is made up of families, singles, young & old.
What can you expect when you come visit us?
Smiles and a 'hello, welcome' at the front door
We like to begin the day spending some time (at 10:15am) talking to our Father in Heaven in prayer before worship.
After prayer, we get organised and settled for worship (11am and again at 5:30pm)
Worship consists of:

singing Psalms of praise to God
speaking to God through prayer
listening to God through the reading and preaching of His Word, the Bible
giving an offering of our money to God for the work of His church
We often have a children's talk during the service so that the children feel included in the worship. We recognise that even children can worship God and that they need to be in the service as much as anyone else

After the worship service we have coffee, tea and biscuits whilst talking with each other about Jesus and how He is working in our lives
Notice, we didn't say anything about dress code. Some people come in their "Sunday best", others are more casual. We care more that people come with hearts and heads ready to listen, grow and praise our Heavenly Father.