Walking
We are not an exercise group – the Bible often uses walking to describe living. How we walk is talking about how we live.
And we are called to walk by faith (2 Corinthians 5:7), to walk in love (Romans 14:15), to walk in the Spirit (Galatians 5:16), to walk worthy (Ephesians 4:1), to walk in the light (1 John 1:7), to walk in Jesus (Colossians 2:6) (and more).
This doesn't happen automatically, or overnight, but Christ helps us, and we help each other.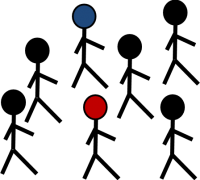 Walking Together
And helping each other is walking together. So we share our lives together (1 Thessalonians 2:8) and work together and eat together (Acts 2:46) and laugh together and cry together (Romans 12:15).
We help each other, and encourage each other (Hebrews 3:13).
Sadly we sin with and against each other. So, when needed we rebuke each other in love (Matthew 18:15).
But, gladly we confess our sin to each other (James 5:16) and bear with each other and forgive each other (Ephesians 4:32) and teach each other and love each other (John 15:12).
When we worship together and walk together then we already have a context of shared lives in which to witness together →
Some of our opportunities for Walking Together
See Calendar → for times and locations
Mid-week meetings for prayer and Bible study
Camps – including with the other churches in our presbytery
First Friday Fun on alternate months
Supper together after evening worship on the first Lord's Day of each month
Fireside Chat for young people grade 11 and up one Lord's Day evening each month